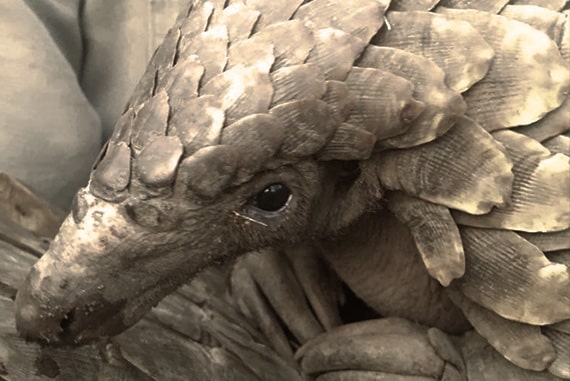 By

The Boucher Legacy

1152 Views

0 Comments
GIVING COSMO A SECOND CHANCE
To show appreciation for the lifesaving work taken on by APWG, The Boucher Legacy takes pride in highlighting these pangolin rescue stories. This time, we shine a light on the work done by the APWG and other organisations to give Cosmo the pangolin a second chance. 
Following a swift rescue operation, on the 15th of July 2022, Cosmo was handed over by members of the South African Police Service into the faithful hands of the chair of the APWG, Nicci Wright. Crime Investigations Johannesburg and the Johannesburg Tactical Response Team followed up immediately with arrests.
Cosmo was a tiny but strong pangolin who had a number of challenges before being released. Due to his small size, he had to undergo rehabilitation at the Johannesburg Wildlife Veterinary Hospital before being released. Part of his rehabilitation included him spending time at a reserve in Mpumalanga where he was walked every day by a dedicated walker from Mpumalanga Tourism & Parks Agency. 
A true fighter, Cosmo fought through an ear and foot infection which resulted in him losing his balance and walking in circles. His perseverance paid off and he was finally released 162 days after his rescue on December 23rd, 2022. 
He continues to be monitored via a telemetry unit, sponsored by The Boucher Legacy. We are pleased to say that he is doing very well after his rocky start.
This collaboration, between the APWG and The Boucher Legacy, demonstrates the importance of partnerships and interdisciplinary approaches in conservation – through working together and combining expertise. 
The two organisations have been working together to provide telemetry units to as many rehabilitated pangolins as possible. The telemetry units make it possible for researchers to remotely track pangolin health, movements, habitat use, and behaviour This research is key to learning more about these elusive mammals and how we can support their continued existence in our ecosystems. 
Pangolins have unique adaptations and behaviours that can provide insights into biology, evolution, and ecology. All living beings have a right to exist and pangolins are no exception. They have been on the planet for 85 million years and deserve respect, ethical treatment, and the right to live their lives without being hunted to extinction. 
Conserving pangolins is so important. Not only for the survival of the species but also for the health of their ecosystems, cultural heritage, biodiversity, and scientific research.