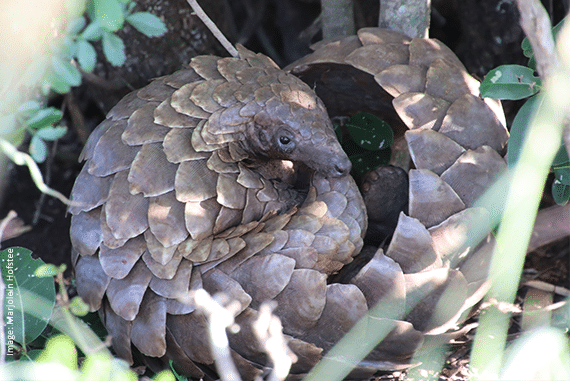 By

Edge Digital

7628 Views

1 Comments
The Pangolin Diaries: Corona
The African Pangolin Working Group and The Boucher Legacy recently teamed up to see how we can work together to protect and rehabilitate the most trafficked mammal on earth at this point in time; the pangolin. Corona is the second pangolin that we have rescued and rehabilitated together after the beautiful Rampfy who was recently released back into the wild and is doing extremely well.
Our new little pangolin; Corona, looks like a little Buddha – she is in perfect condition at 6kg's and is so chubby, she leaves us all wondering how it is possible to be that substantial from just eating ants. But Corona wasn't always in good shape…
On 4th February 2020 she was confiscated as part of an intelligence driven operation organised by the African Pangolin Working Group (APWG) with support from the SAPS Stock Theft & Endangered Species Unit, SAPS Bronkhorstspruit K9 unit, SAPS Covert Intelligence Unit for Gauteng and GDARD's Green Scorpions. This subadult female Temminck's pangolin was just a statistic on a police report, when five suspects were arrested at the N1 Shell Ultra City in Gauteng Province.
Weighing in at 4.9 kg, she was emaciated and severely dehydrated from her extensive ordeal in the illegal wildlife trade. Arriving in the time that the novel SARS Corona virus (COVID-19) hit South Africa she was promptly and aptly named Corona.
Professor Ray Jansen, Chairman of the APWG describes the "tricky" situation of her confiscation – like all sting operations, it was "extremely intense". In conducting a sting operation, he deals with a middleman that has contact with the poachers. It takes a few days of conversation, mostly via WhatsApp, to convince the middleman to trust him and the middleman, in turn, needs to do the same with the poachers. If any of these lines of communication breakdown, the operation fails.
Jansen works closely with the police – he has earned himself the reputation of the best person for the job. While heading up an international organisation, and with global respect for his academic research in pangolin conservation, he prides himself for being "boots on the ground" and also has massive street cred. The heads-up for this contact – the middleman – came from Limpopo SAPS STU/ESU, who requested Jansen to take over.
The first meeting date and location for the sting operation failed when the entire covert unit was in place, but the middleman failed to turn up. The poachers were not responding to him. "It went pear-shaped", Jansen says, but a few days later they attempted it again. The police were in place and the middleman turned up. "I met with him and made small talk for about 15 minutes. He left to contact the poachers after I convinced him I was a legitimate buyer". It took another hour for the poachers to finally arrive.
All Ray Jansen needed to do was to see that they had the pangolin with them. He signaled to the police and the bust went down quickly. The adrenalin must have been palpable as the full might of the law kicked in – possession of a pangolin can get you a fine of R10 million or 10 years in jail – it's a war out there.
Everyone has a story that they take to their destiny, as was the case with the middleman who had brought his five-year-old son with him. The boy was locked in a car around the corner from the crime scene and was deeply distraught. A poignant black and white image from the scene shows the middleman holding his son, eyes downcast, and with a glazed look, while the child's brow is furrowed in confusion and his face is stained with tears. A mindful decision was made to phone the child's mother to collect him as opposed to contacting social services where he would enter the "system" of foster care.
Pangolins are immensely tolerant, with a demeanor that's a mixture of innocence and wisdom. Corona was one of the lucky ones. In 2019, 97 tons of African pangolin scales were confiscated on route to Asia – the equivalent of 150 000 pangolins but representing only 10% of the actual trade. They have their own order, called Pholidota, made up of the eight species that are spread across Africa and Asia, with the highest level of protection internationally, as an appendix 1 animal on CITES – the Convention of the International Trade in Endangered Species – and considered to be on the threshold of extinction.
When a sting operation is "going down", a specialist vet team and rehabilitation experts are already on standby. They know that they could be expecting a pangolin soon and one that may require specialist care. These people have a dedication that goes beyond the call of duty, their work is more than a 9 to 5 job and their commitment to this species means more than the money they earn. Corona was transported to the Johannesburg Wildlife Veterinary Hospital for intensive care. On admittance, she was exhausted and notably stressed because of her ordeal in the trade. The hospital protocol with confiscated pangolins is to observe them for obvious signs of injury, a full panel of bloods is taken to reflect the level of compromise, dehydration and the condition of the organs, they are hooked up to a drip for rehydration and then intubated with an easily digestible recovery mixture. Once Corona was ready to be shepherded for natural foraging, she was taken out twice a day and started consuming 300g – 400g of ants a day.
"Corona was a lovely pangolin, very pretty to look at and soon became quite bossy, making sure that we understood what she wanted and that she was not prepared to wait for it. She ate like a demon," laughs Nicci Wright – a pangolin expert and the head of her rehabilitation and care.
She fed on pugnacious ants and snouted harvester termites. "If she wanted to eat Matabele ants, we wouldn't have had them," Nicci says and describes how a pangolin named Benz (pinned into a mesh cage in a rolled-up position and rescued from the backseat of a Mercedes Benz) wouldn't eat for four days; she eventually drove him up to the Botswana border where he immediately started eating Matabele ants. Most of the time, the original source of the poaching is unknown, so it is always a relief when a pangolin will eat what is widely available in secret locations in Gauteng.
When Corona weighed in at 5.38kg's, she was transferred to a site that had been selected for her release at Manyoni – a 33 000 hectare big 5 reserve in Zululand. The Zululand project is a landmark research programme for the re-introduction of pangolins that have been locally extinct there for three decades. The Boucher Legacy has supported three pangolins in this area, with telemetry for ongoing research after release.
Corona is still a young pangolin, with scales like seashells that are hardening, and not yet stable at the prescribed 6.5kg's to 7kg's – the optimum weight for freeing her into a wild domain. She is in a soft release procedure under the guardianship of the APWG's site manager for KwaZulu Natal, Leno Sierra. Once she reaches a level of maturity that enables her to feed independently, to find suitable refuge in burrows, to move comfortably and with other skills that will ensure her independent survival, she will be released.
Leno currently takes 'Cory' to an open landscape to feed for three hours a day. She calls this spot Las Vegas because it's party time, with so many ants to forage on. She loves harvester termites, "I can virtually plug her into a harvester nest, and she will feed there for 45 minutes – standing on her head, with her feet in the air if she needs to get in further and go deeper". Cory is already perfectly wild and comfortable; she has her VHF and satellite telemetry, supplied by The Boucher Legacy, attached through a hole drilled into a suitable scale. She is nearly ready to go.
When she is released – in Las Vegas – Leno will continue to walk with her for 3 days, but Cory the pangolin will stay out overnight. After that, Leno will be strictly hands-off, checking on her once a day and then slowing decreasing to once every other day, once every few days, and then less and less. But that doesn't mean Leno will get a good night's sleep. She will be checking on all the pangolins in Manyoni via their satellite telemetry, checking every time it pings, which can be at 2am or 3am.
The Boucher Legacy is proud to be working with The African Pangolin Working Group who have dedicated so much to this magnificent species and we will continue to help in the rehabilitation of rescued pangolin and release programming to ensure that they are returned to their natural environment.
We will keep up to date on Corona's progress. There are three other adult male pangolins on the reserve. Let's hope we'll be lucky enough to see a viable pangolin population there one day.