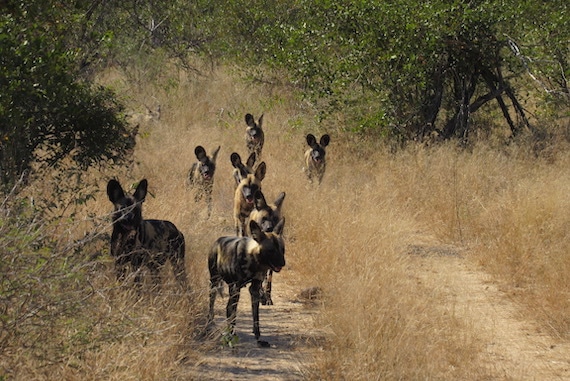 By

The Boucher Legacy

2698 Views

0 Comments
Tracking African Wild Dogs with The Boucher Legacy
At the beginning of 2021, The Boucher Legacy board member Alastair Hewitt approached me and asked if Gorilla would be interested in coming aboard as the creative and digital partner to the Legacy program. I have been a long time fan of Mark Boucher, both as a cricketer and as a conservationist and I couldn't have answered with a quicker or more resounding "YES!" 
Tracking Wild Dogs
In early May, I had the privilege of joining members of The Boucher Legacy team in the Kruger National Park, along with half a dozen literal heroes from South African National Parks and the Endangered Wildlife Trust (EWT). After flying into Skukuza, and meeting the various team members, we were treated to a water-side presentation from Grant Beverly who heads up the African Wild Dog tracking project for the EWT. 
Armed with an update on the progress of the project and the threats facing these amazing animals, we spent the next two days tracking 2 elusive packs around the southern edges of the Kruger National Park. It took close to 12 hours of determined tracking but eventually, we succeeded in finding one of the packs. After a display of expert marksmanship from State Veterinarian Louis van Schalkwyk, we had safely darted and collared an African Wild Dog, South Africa's most endangered carnivore. 
The Tracking Program
The tracking program is one of many that The Boucher Legacy is involved with and it has a simple premise –  by collaring a single member of a pack, rangers and conservationists are able to monitor the movements of the pack. When the pack moves into an area where hunting snares are a known threat, rangers and members of EWT can scout the area and ensure that no dogs have been caught. Likewise, if the pack is stationary for an unusual amount of time, rangers rush to investigate. If an animal has been ensnared, the chances of it surviving is radically increased if help arrives quickly.  
As an advertising agency, we have a great deal of experience working with FMCG brands. I'm proud of the fact that there is seldomly a supermarket shopping aisle that I can walk down without walking past at least one brand that we have worked with. With FMCG clients, success in almost every instance is helping them sell more of their product. Our efforts are reflected in the direction of a graph or the colour of a spreadsheet cell. 
Working With The Boucher Legacy
Working with The Boucher Legacy and helping them raise funds for programs like the Wild Dog Tracking Project, success is more visible and emotionally tangible. The first photos, shared with me last week, show two African Wild Dogs that had been rescued from snares and their wounds treated. 
The second photo was sent a day or two ago, showing one of the same dogs, still sporting the scars of its ordeal, but safely on the way back to full health.
There are estimated to be 300 to 350 African Wild Dogs left in the entire Kruger National Park. Saving two is a big deal. Seeing our work with The Boucher Legacy be successful is a big deal. 
By Jordan Wallace, CEO – Gorilla Creative Media
Support The Boucher Legacy
With your help, we can make a massive difference for wild dogs and other animals.
You can help us to make our impact felt by donating today.
EFT ACCOUNT DETAILS:
Account Holder: THE DIRECTORS THE BOUCHER RHINO LEGACY NPC
Account Number: 27 337 767 1
Branch Name: CASTLE WALK BRC
Bank Name: STANDARD BANK
Branch Code: 4645
Account Type: CURRENT
Swift Code: SBZAZAJJ
SNAPSCAN
Scan the code, using the SnapScan app on your phone.
Support the Boucher Legacy, and share this cause with others who share our passion.