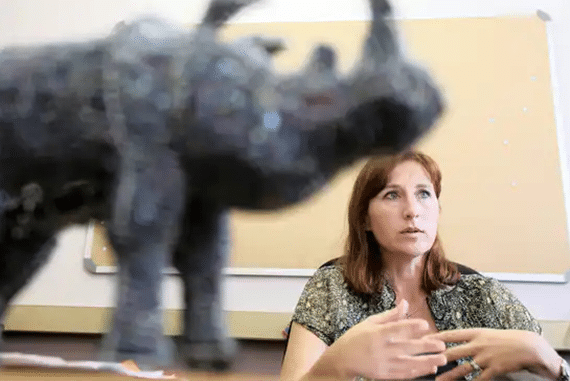 By

Edge Digital

3830 Views

0 Comments
Rhino DNA indexing halted
An interview with Dr Cindy Harper
The Boucher Legacy has been a strong supporter of the Rhino DNA Indexing System (RhODIS) that was developed by Dr Cindy Harper at the University of Pretoria's Onderstepoort campus. The RhODIS program was one of the first causes that The Boucher Legacy identified that we wanted to support back in 2012.
As part of our three key pillars; namely prosecution, conservation and education, the RhODIS program drives our prosecution pillar.
About RhODIS
A substantial investment from The Boucher Legacy enabled Dr Harper to purchase the sophisticated piece of equipment that is used to process DNA samples taken from rhino. In addition, The Boucher Legacy has also assisted with numerous programs to collect DNA from rhino in the field with the help of many corporates who supported us over the past seven years.
The system aims to place the DNA of every living rhino onto a database. This database is then intended to be used to assist the South African Police Service (SAPS) in the prosecution of poachers. This is done by aiding the police in linking a rhino carcass to a specific poacher and thereby providing vital evidence in criminal cases.
Of The Boucher Legacy's commitment to the RhODIS program, Alastair Hewitt had the following to say; "The benefits to date can be seen in the prosecution of numerous poachers who committed atrocities of murder on our rhino population and are currently serving sentences behind bars. We remain committed to the program and will find ways to ensure the continuation of the RhODIS System."
Dr Harper notes that thanks to the RhODIS system "evidence produced by it has supported the conviction of countless rhino poaching criminals, providing a small consolation for the animals that died by their hands and some measure of relief for those still fighting for survival and for this, the RhODIS project and the rhinos will always be deeply grateful."
Video courtesy of 50/50
Progress halted
Sadly, the success of this project has been halted when the contract with the SAPS ended in June 2019 and Dr Harper and her team stopped receiving rhino cases for the period of 2019 and 2020.
"As you know the contract with SAPS ended in June 2019. We have not received rhino cases for 2019 or 2020. Except for a few urgent rhino cases that were paid for by other sources, all other cases appear to be backlogged at SAPS and we (RhODIS) have not received them for analysis. We have not had feedback regarding documents submitted and quotes supplied multiple times to SAPS." – Dr Cindy Harper
The key concern around this halting of evidence supply is that it must be impacting on the success of prosecutions of poachers. Even more disturbing is that RhODIS is more than willing to process the DNA, and the DNA is legally allowed to be sent to them for processing, but there is lack of funding to support the costs involved.