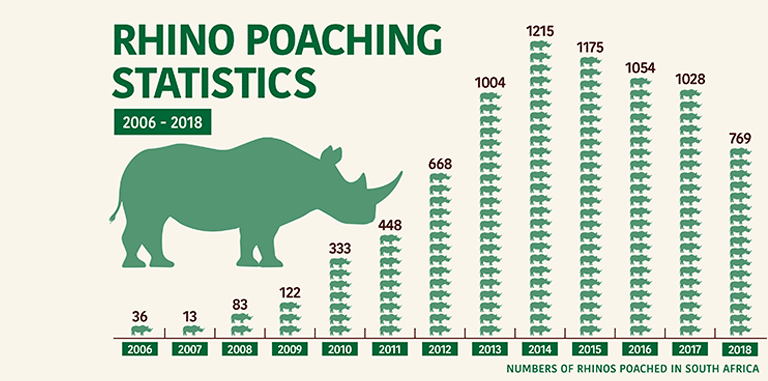 By

Edge Digital

16015 Views

0 Comments
The latest rhino numbers 2019
A rhino is killed every ten hours in Africa
A new report from the International Rhino Foundation gives insight into the real numbers of the world rhino population over the last decade. The results are positive, showing that due to dedicated conservation and protection efforts the number of rhino worldwide has increased in the last decade from 21 000 to 27 000 globally. This is a 30% increase in the rhino population over the last ten years.
While this is positive, it is important to note that in the past two years the number of rhino worldwide has dropped from 29 000 to just over 27 000. This shows that the scourge of poaching across the African continent is still a battle that needs to be fought. According to the latest statistics a rhino is killed every 10 hours in Africa. The International Rhino Foundation says that there have been more than 9 000 rhinos poached across Africa over the last decade.
"Rhinos across the globe are threatened by rampant poaching to feed illegal markets, by habitat loss, and by other factors ranging from inbreeding to invasive species." – International Rhino Foundation
"In Africa, criminals killed nearly 900 rhinos last year." – International Rhino Foundation
Rhino statistics in South Africa

White Rhino
The South African Government and teams of dedicated conservationists have worked tirelessly over the decades to increase white rhino numbers and bring them back from the brink of extinction. In the early 1900's there were fewer than 50 white rhinos left in the wild. Today however, the population numbers are up to about 18 000! The poaching crisis of the last few years has had a negative effect on white rhino numbers causing to decline by 15% between 2012 and 2017. White rhinos are particularly vulnerable in Kruger National Park, where despite rangers' best efforts they are under constant threat.
Black Rhino
In the 1970's black rhino populations numbered more than 65 000. It is devastating to think that due to horrendous losses, by 1993 less than 2 300 of these creatures remained. Black rhino numbers in Africa are now around 5 500 animals and they are also under constant threat from poachers.
Alastair Hewitt, co-founder of The Boucher Legacy says;
"It is always important to take note of the wins gained from concerted conservation efforts and it is encouraging to note that due to the dedicated work of passionate people we have seen an increase in the global population of rhino species. However, the increased onslaught of poaching over the last few years reminds us that the war on poaching is far from over."